We have far-reaching tentacles!
For over 25 years, I've been writing and designing for clients. In 2009, I got involved in social media when I started writing a column for the Examiner. I've been hooked ever since. Social marketing is the best way to get your message across without spending a fortune. Now I have joined forces with other social media experts to form Social Squids.
– Holli Friedland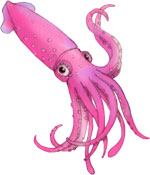 Click on the subheadings to see what services we offer, about us, samples and contact information.
Get a free gift, Guide to Social Marketing for Entrepreneurs when you sign up to be on our mailing list.
Follow us: